Attendance Frequently Asked Questions
Attendance Information Poster for Parents/Carers
We are very proud of our Attendance at All Saints. We work very hard with our students and families to ensure that we maintain our high standards for attendance and punctuality, because we understand the valuable role good attendance plays in supporting students learning and progress. The expectation is that every student strives to obtain above 97% attendance (5 days absence across the school year).
All children will have days when they're not able to go to school, whether that's due to illness or a family emergency, and the occasional day off is unlikely to affect their education. However, missing too much school can be seriously detrimental. Missing a few days of school here and there may not seem a big deal, but research shows that it can have a significant impact on children's learning.
Children who miss a substantial amount of school fall behind their peers, and struggle to catch up. Most of the work they miss is never made up, which can lead to big gaps in their learning.
Pupils who miss between 10 and 20% of school (19 to 38 days per year) stand only a 35% chance of achieving five or more good GCSEs, compared to 72% of those who miss fewer than 5% of school.
A 1% fall in attendance correlates to a 5% fall in attainment. On average, children who miss 17 or more days in a school year lose one full grade in their GCSEs.
Friendships can be affected by persistent absence, too: it can be hard for a child who misses lots of school to form relationships with their classmates.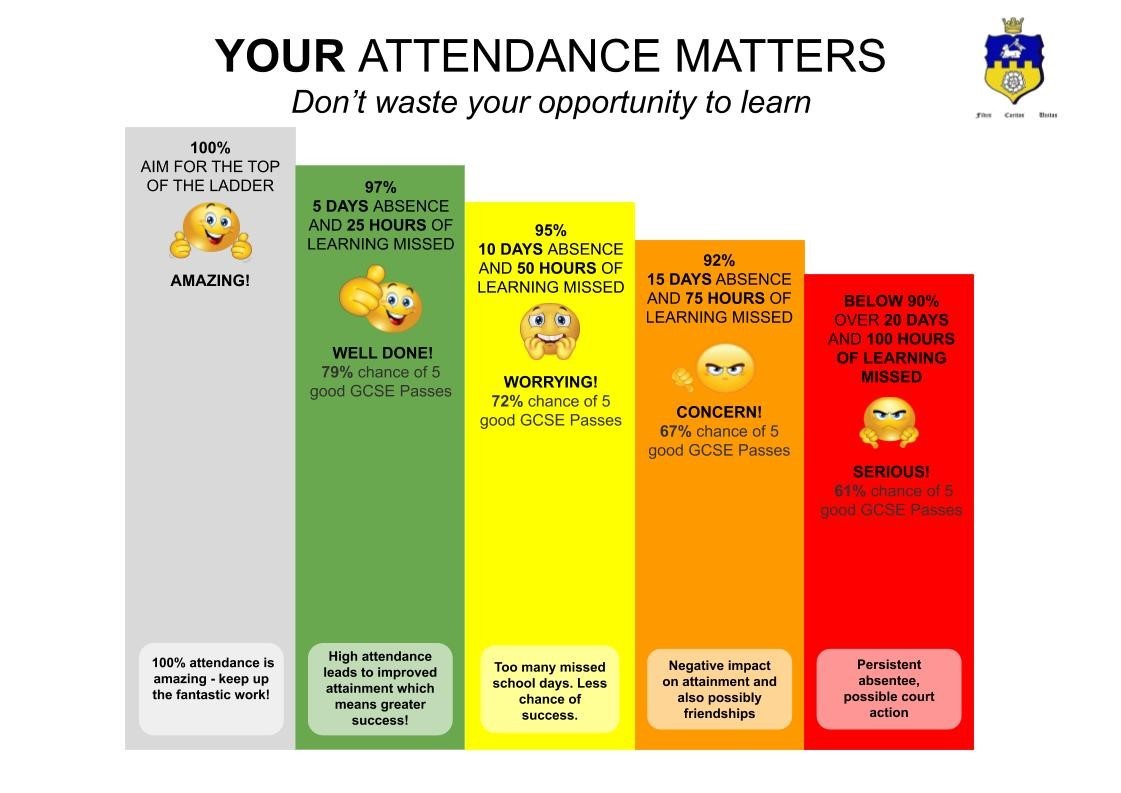 Is 90% attendance OK? What does that look like?
Whilst you may consider the figure of 90% to be high, students with attendance below 90% have missed over 20 days of school and 100 hours of learning. 
Week: 90% is equivalent of being absent for half a day every week throughout the school year.

Year: 90% is equivalent of being absent for 4 whole weeks in one school year.

Year 7 to 11: 90% is equivalent to being absent for approximately half a school year during your time at school. That's the same as missing 6 months of school over the course of your time at school.

We ask that all parents/carers support their child and the school by:
Sending your child to school every day, unless they are too ill to attend, please refer to this link for further information https://what0-18.nhs.uk/parentscarers/child-unwell-ok-go-nurseryschool
Ensuring your child arrives at school before 8.35am, fully prepared and equipped for school
Reporting any absences to school via the absence phone (01904 647877) before 8.30am on each day of absence or emailing: [email protected]
Avoiding medical appointments in school time. If an appointment is unavoidable the student should attend school prior to the appointment (if possible) and be brought back to school after their appointment
Not taking holidays in the school term time. School does not give you permission to take your child out of school during term time. Any request from parents will be unauthorised unless in exceptional circumstances and parents take the risk of being issued with a Fixed Penalty Notice.
Contacting the relevant Learning Leader, Pastoral Leader or Attendance Officer for support if there are any issues preventing attendance
For more information about our attendance expectations please view the school Attendance Policy.
If you would like some support or to discuss your child's attendance please contact the school Attendance Officer at: [email protected]
Punctuality
Arriving on time for the start of the school day and to all lessons is vital. Students should be in their form base at 8:35am and registration starts promptly at 8:40am. If a student arrives 5 minutes late each day, they can miss up to 3 days of learning each academic year.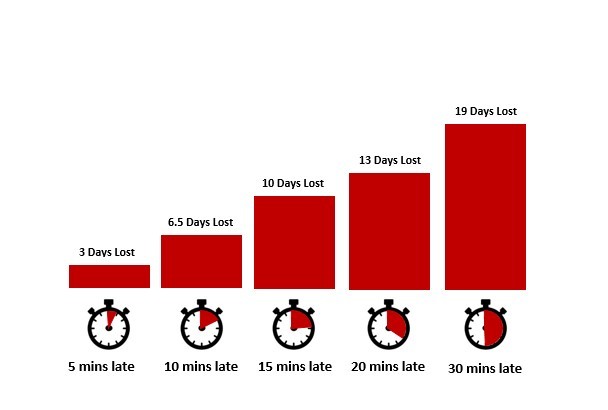 It is important to remember that key information and notices are given out each morning during registration, and currently this is when lunch orders are being made. Students who miss registration will often miss out on important changes that are happening that day or in the upcoming week.
If a student arrives at school late during registration they will need to sign in with the member of staff on duty. If registration has finished (after 9:10am) they must sign in at reception. 
If a student is late to school without a valid reason, or does not sign in at reception they will receive an automatic lunchtime detention. If this persists then parents may be invited to a meeting.